Why Choose a BBNY Intermediary?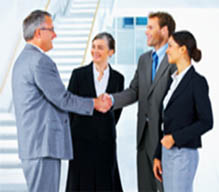 Using the right representation will make the difference between closing or losing a deal. A BBNY M&A Advisor is a skilled professional in mergers and acquisitions. They have established relationships with many professional organizations, which are required to complete the transfer of business ownership. These relationships will prove to be invaluable to business owners and buyers alike....
Business Transfer Process

Structure, order and efficiency
Without a formalized and structured process it would be a rather chaotic situation to effect a transfer of ownership from an existing business owner to a new owner.

Business Transfer
Transfering ownership rights from one person to another is generally accompanied by many other changes. It may happen if an individual decides to sell their business or provide a person with the control of a certain part of the business. This also happens in a family business when ownership of a particular business is transferred from one generation to the next. BBNY M&A Advisors can discuss all aspects of the transfer.
Finding the Best and the Right Business Intermediary
Check with the IBBA
The International Business Brokers Association® (IBBA) is a non-profit "trade association of business brokers and mergers and acqusitions specialists providing education, conferences, professional designations and networking opportunities." IBBA has over 1300 members and provides a professional certification process.
Find a Specialist
An M&A Advisor who spends all their time selling businesses will add more value to your sales transaction than a part-time broker. A full-time M&A Advisor can not only bring in a network of contacts, but has an understanding of the principles of business valuation. Choose a firm who is dedicated to the profession.